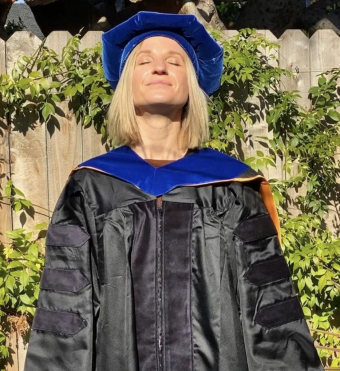 Lauren Ortosky earns PhD!
Dr. David Sherman, Lauren's advisor, notes the following about her time here at UCSB:
Congratulations to Lauren Ortosky who successfully defended her dissertation, "The Psychological Impact of Normalizing Nationalism in a Transnational World." Lauren's dissertation tackled the question of how people's evaluations of transnational problems such as climate change are impacted by both their own levels of nationalism as well as the situation where they see that nationalism is becoming more normalized. Her findings that higher levels of nationalism are associated with increased derogation of issues that require international cooperation raise important questions for science and society. Throughout her time at UCSB, where she was supported by a National Science Foundation Graduate Research Fellowship, Lauren has been committed to understanding and aiding people in important life  transitions. In her research, she examined this with military veterans and their transition to the workforce and STEM PhD students and their transition from graduate school to industry and the professorate. This commitment also emerges in her extensive mentoring work, for which Lauren received the Fiona & Michael Goodchild Graduate Mentoring Award in 2020. Not only a dedicated mentor to the undergraduate research assistants she supervises, Lauren fostered mentoring opportunities for others by co-creating the program, Access Grads. This program, which was the recipient of a major CARES Act Grant in 2021 connects psychology undergraduates interested in graduate school with graduate student mentors, and aims to increase access to research careers for students from diverse backgrounds. I have no doubt that the passion and energy that Lauren brought to social issues and mentoring throughout her time at UCSB will carry forth in her professional endeavors. With a sincere "Woo-hoo," and warmest wishes for fulfillment and joy in all the trails that she will traverse, I congratulate Dr. Lauren Ortosky on earning her doctoral degree.
Congratulations, Dr. Ortosky!